HELP US SPREAD THE WORD ABOUT GKS!

Pick-up a FREE GKS Car Magnet at one of the following Armstrong Bank locations: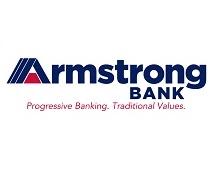 CENTRAL Fort Smith Branch

,

2930 Old Greenwood Rd

SOUTH Fort Smith Branch

,

9201 Hwy 71 S (corner of 71 S & Burrough Rd)

NORTH Fort Smith Branch

,

1301 Waldron Rd (corner of Waldron & Gordon Ln)

EAST Fort Smith Branch

,

8300 Phoenix Ave (corner of Phoenix & Massard)
NOTES:
-Simply pull through the
DRIVE-THRU
and ask for a Growing Kids magnet!
-One per car, please. But you can get an extra magnet for your spouse's car, mom's car, etc.!
2. Stick it on your car in a visible area (back of vehicle is best). If you find that the rear of your car does not hold magnets, try the bumper!
NOTE: Though you are welcome to leave your magnet on your car year-round, we've found that they can tend to fall off over time, and they are easily lost in car-washes, so we recommend you place the magnet in your glove-box during the off-season for safe-keeping.
Sample car magnet: